Early morning start your Scenic drive towards Ambaji start your journey from S G Highway and drive through Gandhinagar capital city of Gujarat then follow road to Himatnagar after you reach at Idar which was a princely state with glorious history, Idar is famous for Hill Fort known as "Idariyo Gadh" in local, outskirts of city you will see small but beautiful Rani Talav with Jain temple in the centre. Then take NH 76A to reach Ambaji. It takes around 4 hours and total distance is around 188 KM. there is no tall plaza on the way, so you can have no need to be in que at toll plaza.
As you about to reach Ambaji, hills of Aravalli Ranges will appear. Then have a Darshan at Temple of Mata Ambaji also consider as Shaktipeeth among 51 Holy Shrine and pilgrimage destinations in Shaktism across Indian Subcontinent. Also visit Mansarovar there are two temples on two sides of this holy tank, one is of Mahadev and another is Ajay Devi, who is believed to be the sister of Mata Ambaji.
Ambaji Temple Tour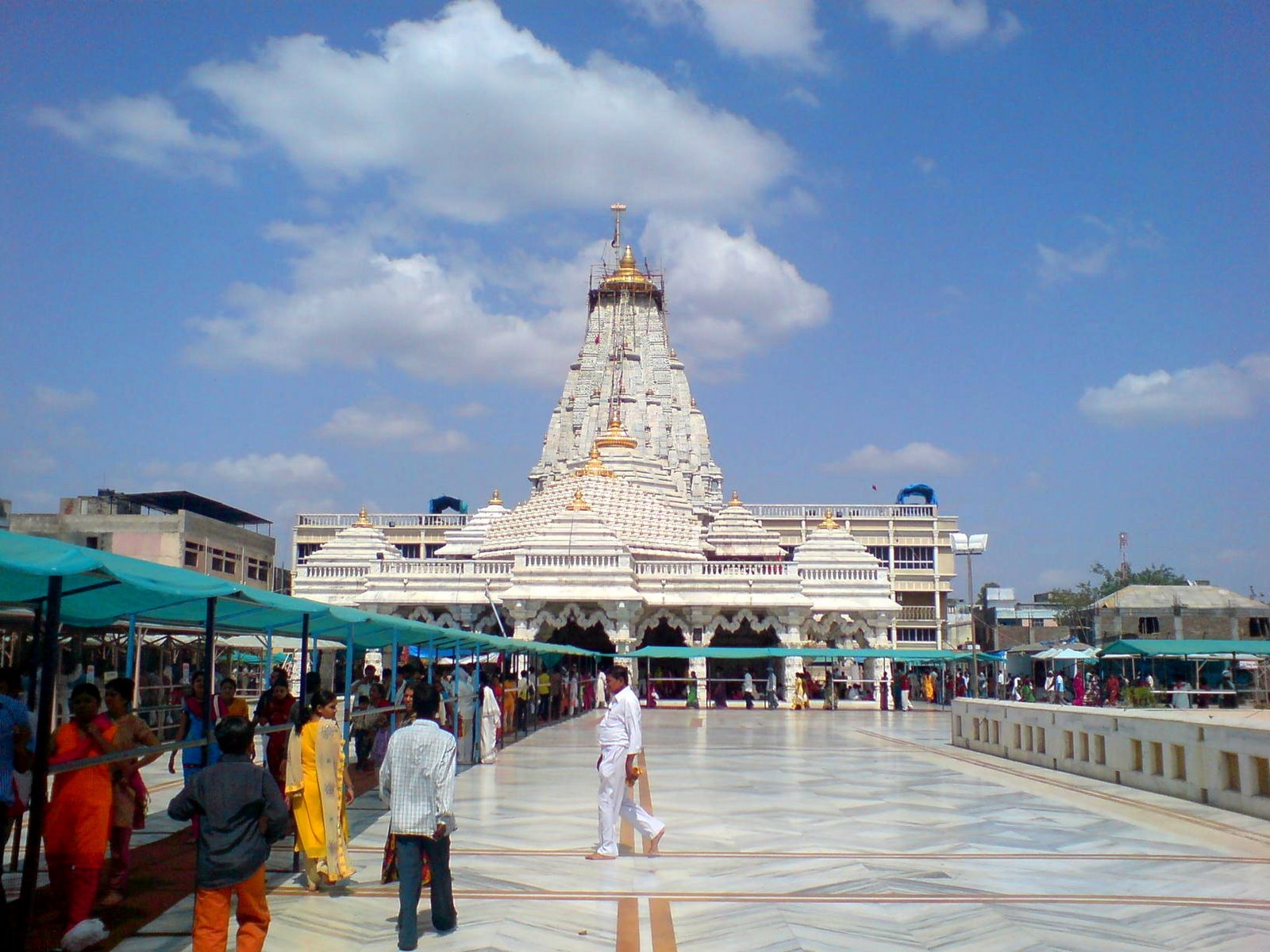 You can also visit Gabbar Tirth. Here a Temple with Akhand Jyot are on one small hill known as Gabbar. One can reach temple by either stair (999 steps) or ropeway. You can also visit 51 Shaktipeeth Shrine while climbing stair.Reach again at Ambaji town and have Lunch either at local market or one can have simple but delicious Prasad at temple kitchen. Visit local market for shopping of some excellent handicraft and religious souvenirand Prasad.
Khedbrahma Temple Tour
After proceed toward Khedbrahma. In Khedbrahma. Visit Temple dedicated to God Brahma, there are very few temples dedicated to Lord Brahma in India.After Darshan at Khedbrahma depart for Ahmedabad take same road as earlier and there are plenty of local restaurant where you can enjoy authentic north Guajarati food. On the way back visit Mahudi Temple and have Sukhadi Prasad which is very famous. After with blessing of Mata Ambaji.
Notes:
There are no any entry fees in temple.
Ropeway fee to Gabbar is 95 INR (Timing is 7:00 AM to 7:00 PM)
Dress Code:
One need to follow dress code according to temple authority.
Upper Wear: Must cover the shoulders, chest, navel and upper arms.
Lower Wear: Must be at least below knee-length.
Famous Restaurant:
Shree Sahajanand Restaurant
Address: Ramosana Cross Road, Mehsana.
Must try food: Bhakhri, Kadhi and Khichdi
Ambaji Temple Timing:
| | | |
| --- | --- | --- |
| Sr. No | Timings | Puja Details |
| 1 | 7:30 AM – 8:00 AM | Morning Aarti |
| 2 | 8:00 AM – 11:30 AM | Darshan |
| 3 | 12:00 PM | Raj Bhog Aarti |
| 4 | 12:30 PM – 4:30 PM | Darshan |
| 5 | 7:00 PM – 7:30 PM | Sandhya Aarti |
| 6 | 7:30 PM – 9:00 PM | Darshan |
Note: The above mentioned timing might change on festival days.
Best Time to Visit: During Navaratri (comes around October)
Ambaji Temple:
Ambaji is one of the 51 ancient Shaktipeeth Tirth in India.The shrine of Shri Amba is regarded as a revered shrine by the Shaktism sect of Hinduism. It is believed that the Heart of Sati Devi has fallen here. In the holy temple of "Arasuri Ambaji". There is no image or statue of goddess the holy "Shree Visa Yantra" is worshiped as the main deity.
Khedbrahma Temple:
Khedbrahma has a temple dedicated to Brahma which is rarely seen in India, only second to Pushkar. It was built in third quarter of the 11th century during reign of Chaulukya king Karna. According to the Brahmakshetra Mahatmaya or Brahma Purana, this place owes its sanctity to a desire of Brahma to free himself from impurity. So, you can check our Gujarat Tour Packages with all the Temples Tours and Other once.